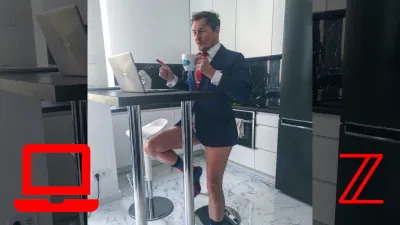 ---
---
The global pandemic has made adjustments to the lives of every person on our planet. Now remote communication has become the norm, you won't surprise anyone with video meetings in the Zoom program. However, if you have an old laptop, you will have to replace it with another one, because Zoom, and other similar programs, are very demanding on the technical parameters of a laptop. This means that if the laptop is outdated, the program will constantly freeze, which means that you will not be able to chat with your relatives or friends.
To choose a good laptop from which you can easily participate in video conferences, you need to remember that this requires a good processor, a high-quality video camera, and a clear and juicy display. So what should be a laptop for large-scale meetings?
Anyone who has encountered Apple technology at least once in their life knows that these guys do everything so that the buyer likes their product as much as possible, and this laptop model is no exception.
We need a good quality display, and here it is - Apple's unique Retina screen produces a very juicy and bright picture, and the image is as clear as possible. However, the screen is not the most delicious that is here.
This model has an eight-core processor on board, thanks to which the laptop has an unsurpassed processing speed. The same goes for the graphics, Apple managed to find the balance of these two characteristics and create something incredible.
Despite the fact that usually Apple devices usually have a problem with batteries, more precisely, with the fact that the battery runs out quickly, this problem was completely solved here - the laptop can work offline for almost 10 hours.
Specifications:
Display: 13.3 inch (diagonal) LED-backlit display with IPS technology; native resolution of 2560 x 1600 at 227 ppi with support for millions of colors;
Processor: System on a chip (SoC); Apple M1 chip; octa-core CPU with 4 performance cores and 4 efficiency cores; 16-core neural engine;
Graphics and video support: 8-core Apple GPU;
Charging and expansion: Two Thunderbolt/USB 4 ports supporting: charging, Display Port, Thunderbolt 3 (up to 40 Gb/s), USB 3.1 Gen 2 (up to 10 Gb/s);
Dimensions: height 0.41 - 1.61 cm; width 30.41 cm; depth 21.24 cm; weight 1.25 kg; release date 11/10/2020.
Pros / Cons of the model:
It has a high-quality display that produces a very juicy and clear picture;
The case is very light, I don't know of any full-fledged laptop that weighs so little;
A chic combination of processor and 8 GB of RAM;
The hard drive has enough space to store programs and information.
In the first place, this is of course the price, if you have a modest budget, then this model does not suit you;
The case of the laptop does not look very reliable, and even in older models there was a weak plastic, which, with careless use, cracked near the screen hinges.
Previously, Microsoft was only known for making good operating software, but now this company is a real competitor to Apple, because it releases laptops that are not inferior in performance to the apple and are slightly cheaper.
Surface Pro 7 is ideal not only for video conferencing, but also for a host of everyday tasks, and beyond that, it can handle even heavy tasks. The laptop has a large touch screen, and everything else is also a transformer.
A modern Core i5 processor is installed on board and it has 8 GB of RAM, this is a very good combination - it is able to run even heavy programs in a couple of seconds without any problems.
Microsoft also took care of the battery, so this laptop has a good battery life - about 10.5 hours without recharging.
Specifications:
Display Size: 12.3 inches;
Screen resolution: 2736 x 1824;
Processor: Intel Core i5;
RAM: 8 GB;
Hard Disk: 128 GB Solid State Drive;
Graphics Coprocessor: Intel Iris Plus Graphics;
Average battery life: 10.5 hours;
Operating system: Windows 10 Home;
Item Weight: 1.1 lbs;
Rear webcam resolution: 8 MP.
Pros / Cons of the model:
The perfect combination of processor and RAM, thanks to which the laptop will turn out to be very productive;
Small weight, so this model can be considered portable, it is very convenient to take it with you both on business matters and on a trip;
Works well in Zoom;
Long battery life without recharging.
The hard drive is only 128 GB, which may not be enough if you plan to work actively with this laptop;
The cooling fans may make a lot of noise during operation.
It's not just that our list includes two models from Microsoft. The company really produces high-quality laptops that are ideally suited for long everyday work, and in addition to their characteristics, they boast a thin, lightweight, and also stylish design.
This model has an excellent quality 10.5-inch touchscreen display, thanks to which you can be in any HD video conference. It is worth paying attention to the cameras - there are two of them, and this is a rarity for laptops. The front camera is ideal for video communication, and the rear one can take quite decent high-quality pictures.
In addition, this model is notable for the fact that it is a full-fledged transformer. You pay for the purchase once, and as if for one device, but in fact you get two - a laptop and a tablet. The company has thought of everything, so the laptop comes with a special stand, which is very convenient to use while in tablet mode.
Autonomy is literally Microsoft's second name, because all its laptops are able to work offline for about 10 hours, and in today's market this is very worthy.
Specifications:
Display Size: 10.5 inches;
Maximum screen resolution: 1920 x 1080 pixels;
Processor: Intel Core i9;
RAM: 8 GB;
Hard drive: 128 GB solid state drive;
Graphics coprocessor: NVIDIA;
Average battery life: 10 hours;
Operating system: Windows 10 Home;
Item Weight: 1.2 lbs;
Rear webcam resolution: 8 MP.
Pros / Cons of the model:
Excellent quality touch display, which has incredible responsiveness;
Two cameras with Full HD format, which allows you to take high-quality pictures and participate in video conferences;
A good amount of RAM, combined with a very powerful processor, gives excellent results while working - performance and multitasking are on top;
One of the downsides is that when buying a laptop, you don't get the keyboard right away, you have to buy it separately. But there is a plus here - Microsoft releases keyboards of different designs, so everyone can find the option that they like best, and not be content with what the manufacturer puts for him;
Still, if you run several demanding programs, the laptop will cope with them with a scratch.
If you have a job that requires you to spend a lot of time on Zoom every day, you need a laptop that has long battery life and some other features that make it very comfortable for you to work from the comfort of your home.
LG has always been famous for their laptops having a quality display, and this laptop has a great display as well. This is a 14-inch LCD display that has a Full HD resolution and is able to show a very clear juicy picture. Therefore, it is very convenient to go to a conference with it, and besides this, to perform other work as needed.
Of course, no one will like it if he buys a new laptop, and it will work unrealistically slowly. Therefore, LG took care of this, and in this model, the tenth generation Core i5 processor is installed on board. If we talk about this price category, then this processor is really the best, capable of providing smooth long-term operation without braking and freezing.
This laptop is famous for having a huge amount of battery life - 22.5 hours, and numerous tests have confirmed this. With this laptop, you can always stay in touch throughout the day, no matter where you are.
Specifications:
Display Size: 14 inches;
Maximum screen resolution: 1920 x 1080;
Processor: Intel Core i5;
RAM: 8 GB;
Hard Drive: 512 GB Solid State Flash;
Operating system: Windows 10 Home;
Item Weight: 2.2 lbs.
Pros / Cons of the model:
Gorgeous LCD screen;
Installed operating system;
Good combination of RAM and hard disk storage;
Amazing battery life - up to 22.5 hours on a single charge.
The only thing that the user may encounter is overheating during extreme work. Just in case, you should have a special stand for a laptop with fans on hand.
This is the third model from Microsoft, and this means that the company really creates laptops that you want to buy. Speaking specifically about this model, it has an interesting design, which includes a "non-standard" color. It looks really stylish and expensive.
The laptop has the perfect display-to-keyboard ratio, so it's easy to focus on the person you're talking to during a meeting or important conversation. It should be noted that the screen shows a very clear juicy picture, so you can work on such a screen without harm, and also with great pleasure.
Since this is a full-fledged laptop, and not a transformer, it was surprising for everyone that it has a 720p HD camera, which means that your interlocutors will see you very clearly during a call.
In addition, there are no problems with other parameters, such as memory and processor. It has a modern multi-core Intel Core i5, which is ideally combined with 8 GB of RAM during operation.
Specifications:
Display Size: 12.4 inches;
Maximum screen resolution: 1536 x 1024 pixels;
Processor: Intel Core i5;
RAM: 8 GB;
Hard Disk: 128 GB Solid State Flash;
Graphics Coprocessor: Intel UHD;
Operating system: Windows 10 S;
Item Weight: 2.45 lbs.
Pros / Cons of the model:
Lightweight and very stylish design, looks very expensive and modern;
The presence of a touch screen and a fingerprint has also become an advantage over other options;
The modern tenth generation processor is ideally combined with the amount of RAM;
The built-in video conferencing camera has good video quality.
The only negative that I was able to find is that it overheats during prolonged use.
However, we must also include a special mention in this comparison. The ASUS Zenbook 13 is probably, for 2022, the best laptop you can get for Zoom meetings at a competitive price.
ASUS Zenbook 13 review
This is due to the fact that it hosts more power than any laptop on the market, unless you want to spend an incredibly unnecessary amount of money. With 32GB RAM, 1TB SSD, an amazing processor and more, it is by far the best laptop you can get for MS Office, however it might be difficult to find it actually for these exact reasons. However, you can still get great variations with 16GB RAM and 512GB SSD.
Specifications:
Display : 13.3" OLED FHD NanoEdge Bezel
Processor : Intel Core i7-1165G7
RAM & Speed : 16GB
Storage : 512GB SSD
GPU : Intel Iris Plus Graphics
Keyboard : Backlit/IR Camera/NumberPad
WiFi/Audio/Streaming Features : WiFi 6 (802.11ax) + BT 5.0
Operating System : Windows 10 Pro
Accessory : Sleeve, Adapter
Weight (lbs): 2.45
Pros / Cons of the model:
The thinnest bezels of the screen, but the display still remains full;
The most powerful processor for smooth operation;
A very good location of the keyboard, so when typing your hands will not get tired;
Large capacity storage for all your important data.
Overheating is a very common problem;
The model costs a little more than expected, but is worth the investment as it will pay off quickly.
Quick Guide: How to Choose the Best Laptop for Zoom and Video Conferencing in General
Long battery life. This is a very important parameter, because during an important conference, the last thing you want to be distracted is looking for a charger. For comfortable work, 6-8 hours of battery life can be enough.
Modern processor. In general, this parameter is almost always very important, especially in those situations when it comes to video communication. The more powerful it is, the better, but here it all depends on your budget.
Display and high-quality front camera. It is not necessary to explain that during an important meeting, the interlocutor must see you well, but you must also have a clear picture in front of your eyes.
Modern wireless technology. This is also important so that the connection during the conference is not interrupted and is stable.
Frequently Asked Questions
Is the Apple MacBook Air a good choice for Zoom?

Appliances from Apple, including the Apple MacBook Air, are ideal for Zoom video conferencing. The screen is very important for this, and in this model the screen produces a very juicy and bright picture, and the image is as clear as possible.
---
Explore Your Business Potential: Discover Our Range of Transformative Courses Today!
Unveil the power of knowledge with our diverse array of courses, from Operational Procurement in S/4HANA to SEO essentials. Elevate your expertise and drive success in your business ventures.
Get your course
---
---