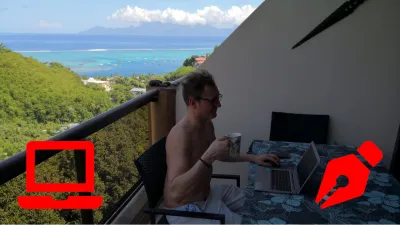 ---
---
In the modern world, it will not surprise anyone that you are a blogger, besides, this is considered an almost full-fledged profession, because a person gives his best to get feedback from the audience and even earn money.
In order to successfully run your own or someone else's blog, as well as create content, you need a good reliable laptop. If you work only with text, then choosing a model is not very difficult, but if you are a content creator, then here you need to take the choice more seriously.
If we are talking about Apple and its products, then we are talking about quality. Of course, there is one caveat - this pleasure is very expensive, but on the other hand, the equipment of this manufacturer is very durable and modern, and also always has a stylish design and good performance.
Of the interesting things that can be said about this laptop is the display, because this is the first thing that catches your eye. This is Retina with color correction technology: the picture is not only as clear as possible, but also has rich colors. Which is why it may be the best option for you - Air is perfect for working in Photoshop and other graphics programs.
Also, this machine is unrealistically portable and stylish - the laptop has a thin business case, it is not a shame to take it with you to a business meeting or vacation. The model has an improved updated keyboard, and at first everyone reacted to this with distrust, but it turned out that Apple offered a really very interesting solution.
The laptop has a 256 GB solid state drive, and in principle this is quite enough to install the necessary programs and store files. As for the processor, there is a tenth-generation Core i3 processor, as well as 8 GB of dedicated RAM. This is quite enough for both blogging and digital content creation.
Specifications:
Display: 13.3-inch (diagonal) LED-backlit Retina display with IPS technology; 2560 x 1600 native resolution at 227 ppi with millions of colors, 16:10 aspect ratio;
Processor: 1.1 GHz dual-core Intel Core i3 processor with Turbo Boost up to 3.2 GHz and 4 MB L3 cache;
Graphics and video support: Intel Iris Plus Graphics, support for external GPUs with Thunderbolt 3 support;
Charging and expansion: Two Thunderbolt 3 (USB-C) ports supporting: charging, Display Port, Thunderbolt (up to 40 Gb/s), USB 3.1 Gen 2 (up to 10 Gb/s).
Pros / Cons of the model:
Excellent display, thanks to which you will see a clear and juicy picture;
A huge number of users rated the work with five stars with this laptop;
A fingerprint is available because Apple always cares about the security of its users' data;
Very thin and stylish design, making the laptop as light as possible;
The keyboard is very ergonomic and especially comfortable for bloggers;
Good combination of RAM and hard drive.
High price, but if you see a laptop from Apple, you should not count on low cost;
The processor, although modern, copes with demanding programs, but is completely unsuitable for games;
The battery does not last as long offline as we would like, but this depends on its load.
It is this model that has already been included in our review articles a huge number of times and this is due to its versatility. If you're a blogger looking for an upgraded machine, then you should definitely check out the Aspire 5 because it's portable, super slim, and has a nice design.
What worries a blogger who spends a lot of time in front of a laptop monitor? To keep it high quality and not to tire your eyes, Aspire 5 can easily give you this. In addition, this laptop costs no more than $ 500, so it will be an ideal option for beginners.
The technical part is also in perfect order. The laptop is equipped with a modern AMD Ryzen 3 processor, and also has 8 GB of RAM. This is quite enough for high-quality work on the blog.
Specifications:
Display Size: 15.6 inches;
Maximum screen resolution: 1920 x 1080 pixels;
Processor: AMD Ryzen 3;
RAM: 4 GB;
Hard Disk: 128 GB Solid State Flash;
Graphics coprocessor: AMD Radeon Vega 3;
Average battery life: 7.5 hours;
Operating system: Windows 10;
Item Weight: 3.97 lbs.
Pros / Cons of the model:
Low price and good functionality attract buyers;
High-quality display;
A modern processor goes well with the amount of RAM, these resources are quite enough for long-term work on a blog;
Availability of ports for connection.
There is very little hard disk storage space, although this problem is easily solved by various cloud storages;
The battery does not work autonomously for as long as we would like.
This model also gets into our review articles not for the first time, and if we consider it as an option for blogging, then the laptop will become your excellent partner in this matter.
If you travel a lot and also work at this time, you should not settle for a laptop that will pull you with its weight. You want something as light as possible, like this one - at just 1.70 pounds, this laptop rivals even Apple in terms of portability.
Bloggers are very creative people, and sometimes ideas for any material come quite suddenly. That is why, for the best effect, a very responsive touch screen is provided here, which significantly improves overall productivity.
The processor here is as modern as possible - the tenth generation, Core i5, which goes well with 8 GB of RAM while working. All this guarantees high-quality stable work, from which you will get maximum pleasure.
Specifications:
Display Size: 12.3 inches;
Maximum screen resolution: 2736 x 1824 pixels;
Processor: Intel Core i5;
RAM: 8 GB;
Hard Disk: 128 GB Solid State Drive;
Graphics Coprocessor: Intel Iris Plus Graphics;
Average battery life: 10.5 hours;
Operating system: Windows 10 Home;
Item Weight: 1.1 lbs.
Pros / Cons of the model:
So thin that it can easily compete with Apple products;
It has a strict, but at the same time stylish coloring - platinum color and matte black;
Has several modes of operation: laptop, tablet, studio);
The modern tenth generation processor is elegantly combined with the amount of RAM, which in general ensures fast operational work;
Very powerful speakers, so you can not only work on blogging, but also watch movies, enjoying high-quality sound;
Decent battery life.
Small amount of memory for storing data and installing programs;
The touchpad does not work as well as we would like.
If you're a travel blogger, Swift 3 might be of interest to you, as it has great features for that purpose. The design of this model will turn out to be quite portable and stylish, so you can take it everywhere with you without any hesitation - it looks expensive. In addition, Acer distinguishes itself from other manufacturers by making the most comfortable keyboard on its laptops, and this model is no exception to the rule.
For a person who constantly works on a laptop, it is very important that his display has a good image, and Swift 3 will easily please you with this. The developers did their best to create a very high-quality display with excellent color correction.
When choosing a laptop for blogging, you should not ignore its configuration. I paid attention to this model for one simple reason - the laptop comes with a modern AMD Ryzen 7 4700U processor and 8 GB of RAM. This gives the user simply stunning performance.
When it comes to battery life, the Swift 3 won't let you down on this one either, with a battery life of 11.5 hours on a single charge.
Specifications:
Display Size: 14 inches;
Maximum screen resolution: 1920 x 1080 pixels;
Processor: AMD Ryzen 7;
RAM: 8 GB;
Hard Disk: 512 GB Solid State Flash;
Graphics Coprocessor: AMD Radeon Graphics;
Average battery life: 5 hours;
Operating system: Windows 10 Home;
Item Weight: 2.65 lbs.
Pros / Cons of the model:
Affordable price category;
A modern eight-core processor is successfully combined with 8 GB of RAM;
The keyboard is very comfortable and ergonomic, so typing with it is very comfortable;
Long battery life.
The speakers are not loud enough and of high quality, so it is better to watch movies or videos through speakers or headphones;
Acer has always been known for its poor customer support and nothing has changed since then.
Despite the fact that this laptop was released for sale in 2020, even at the present time it is still relevant to buy. HP did a good job on the design, so the laptop got a business look and a slim stylish body.
Also, a significant work was done on the screen - now it has an anti-reflective coating, and this greatly improves the work process, blogging with such a screen is a pleasure.
Given the price range of this laptop (no more than $500), you should not count on top-end parameters, but even those that are there are quite enough to blog and work comfortably. The AMD Athlon Silver 3050U processor is installed here, thanks to which the laptop turned out to be quite productive.
Specifications:
Display Size: 14 inches;
Maximum screen resolution: 1366 x 768 pixels;
Processor: Athlon 64 X2 Dual Core 3800 plus 2.3 GHz;
RAM: 4 GB;
Hard Disk: 128 GB Solid State Drive;
Graphics coprocessor: AMD Radeon;
Average battery life: 10 hours;
Operating system: Windows 10;
Item Weight: 3.24 lbs.
Pros / Cons of the model:
The low price is literally $372 for this laptop;
Excellent battery life;
Screen with anti-reflective coating, transmitting clear rich colors;
Ergonomic keyboard;
A fresh processor combined with ample RAM.
The hard drive has a very small amount of memory - only 128 GB, so you have to look for additional ways to store information;
The processor is completely unsuitable for working with graphic design, but at the same time it is quite suitable for classic blogging (text, photos, videos).
However, we must also include a special mention in this comparison. The ASUS Zenbook 13 is probably, for 2022, the best laptop you can get for blogging and content creation at a competitive price.
ASUS Zenbook 13 review
This is due to the fact that it hosts more power than any laptop on the market, unless you want to spend an incredibly unnecessary amount of money. With 32GB RAM, 1TB SSD, an amazing processor and more, it is by far the best laptop you can get for MS Office, however it might be difficult to find it actually for these exact reasons. However, you can still get great variations with 16GB RAM and 512GB SSD.
Specifications:
Display : 13.3" OLED FHD NanoEdge Bezel
Processor : Intel Core i7-1165G7
RAM & Speed : 16GB
Storage : 512GB SSD
GPU : Intel Iris Plus Graphics
Keyboard : Backlit/IR Camera/NumberPad
WiFi/Audio/Streaming Features : WiFi 6 (802.11ax) + BT 5.0
Operating System : Windows 10 Pro
Accessory : Sleeve, Adapter
Weight (lbs): 2.45
Pros / Cons of the model:
The thinnest bezels of the screen, but the display still remains full;
The most powerful processor for smooth operation;
A very good location of the keyboard, so when typing your hands will not get tired;
Large capacity storage for all your important data.
Overheating is a very common problem;
The model costs a little more than expected, but is worth the investment as it will pay off quickly.
A Quick Guide to Choosing a Modern Laptop for Blogging
Keeping a blog is not always an easy task in itself - a matter of inspiration, events in life and finding interesting topics for the audience - it's all exciting. But for successful blogging, you need a faithful reliable assistant - a good laptop. How to choose it? Let's take a look at a short guide.
The first thing you should pay attention to when choosing is the screen. This is a very important point, because most of the time you will spend on this monitor. Therefore, it must be of sufficient quality to make your eyes comfortable.
The second important aspect of choice is the keyboard. It should also be ergonomic and comfortable so that the fingers do not get tired when working with text for a long time. The best addition would be if the keyboard is backlit.
The third factor of choice is portability. This is especially important if you are constantly traveling and have to take your work car with you. The laptop should be thin enough, have a stylish design and be light. You should not notice that it is in your bag or backpack, just such a laptop will be a great option for a travel blogger.
Autonomous battery life should not be overlooked either, the laptop should withstand at least 5-7 hours of operation without recharging. During the preparation of the material, you should not be distracted by such things as finding a free outlet and power cable, it is better to focus on the work that you are doing.
As for the budget, this is everyone's business, but you should not rush from one extreme to another - look at the top-end expensive laptops, or vice versa, look for the cheapest option. The best idea is to look for something mid-priced that fits your budget.
Frequently Asked Questions
What is the best content creation laptop in 2022?

The Apple MacBook Air is the best on the market for any kind of content creation in 2022. It is this gadget that has a complete set of features for running a successful blog.
---
---
---