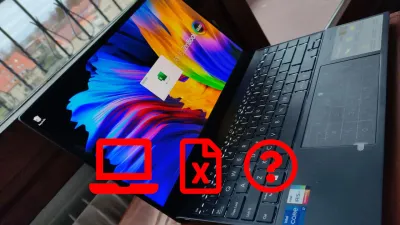 ---
---
It is difficult to imagine a modern worker who can do without a computer. Information technologies are developing very rapidly, and modern realities have greatly contributed to the fact that people can work without leaving their homes.
Working from home requires equipment, and the first thing that comes to mind from this category is a laptop. When choosing such a technique, it is important to focus on the needs of the end user, that is, you need to clearly define the tasks that the computer will perform. The main work flow is focused on office programs, most often Excel and Word.
Of course, office programs can run on any computer, but it all depends on the year the program was released. If, for example, it is Word 2003, then it will run anyway on any laptop and computer, but more modern versions are becoming more demanding. To work calmly and quickly with office programs, the computer must be fast enough and efficient, and besides, it must have a good processor. This is necessary so that office programs run as quickly as possible without freezing.
This computer from HP is a reliable option if your job involves word processing and finding information on the Internet. Accordingly, he perfectly copes with such a task as operational work in office programs.
The laptop case is made of good material, has a streamlined shape and is generally quite pleasant to look at. The keyboard is also striking - there is a Num bar, and it is very important if you work with Excel.
In this model, everything is very thought out with regard to memory: the RAM is 8 GB, and on the hard disk it is 256 GB. Thanks to these indicators, any office program will start as quickly as possible.
If we further consider the filling, then we can stop at the processor, AMD Ryzen 7 is installed here. This allows the laptop to work very quickly, you can even use programs from Adobe without any difficulties and freezes.
You can also pay attention to the fact that the laptop runs on battery power for a long time, even if many office programs and an Internet browser are open.
Specifications:
Display size: 15.6 inches;
Screen resolution: 1366 x 768;
Processor type and brand: AMD Ryzen 7;
RAM size: 8 GB, maximum memory 8 GB;
Graphics coprocessor: AMD Radeon RX Vega 10;
Operating system: Windows 10;
Battery life: 10 hours;
Weight: 1.7 kg.
Pros / Cons
We can safely note an attractive design in this model;
The set includes a modern processor, which contributes to improved performance and work without freezing;
The keyboard allows you to work as comfortably as possible in any office program, and not only;
In addition, office programs are launched literally in a matter of seconds;
Thanks to the presence of the Num keyboard, it is very convenient to work in Excel from this laptop.
Many users have already noticed that HP has a very poor customer support;
In addition, laptops of this brand can overheat at some point.
As for this laptop, the expression that the price corresponds to the quality and functionality is suitable here. This is the most characteristic of the Acer brand, which has recently been producing very decent devices.
A distinctive feature of this brand is that they have a lot of models that are suitable even for students. This is the type of Acer Swift 3. This laptop is able to win the hearts of many people, because if we compare laptops of similar configuration, then this one will be the best among them.
This laptop is equipped with a very high-quality IPS display, thanks to which working with such a monitor will only be a joy - the eyes do not get tired and are happy with the bright colors.
This model is equipped with a modern AMD Ryzen 7 processor, so it is capable of very fast operation and excellent performance. Any office programs open quickly enough.
One of the features of this laptop is that it has a backlit keyboard. This is the most convenient function, especially in the dark, thanks to which finding the right buttons is not a problem.
Battery performance is also great. Testing was carried out, which showed that even if a lot of demanding programs are open on this laptop, it is able to work for 5 hours, which is a very good indicator.
Specifications:
Computer Memory Size : 8 GB
CPU Model Manufacturer : AMD
CPU Speed : 4.3 GHz
Screen Size : 14 inches
Display Technology : LED
Item Dimensions : 12.71 x 8.35 x 0.63 inches
Item Weight : 2.65 lbs
Operating System : Windows 10 Home
Processor Count : 8
RAM Type : DDR4 SDRAM
Wireless Communication Standard : Bluetooth, 802.11ax
Pros / Cons
Installed a fast and efficient processor;
The backlit keyboard makes this laptop stand out for its price point and package;
The presence of NumPad will be a joy for those people who often work with Excel;
Thanks to its advanced configuration, it can open all office programs at once without any problems.
Acer has such an unpleasant feature that it overheats in some situations, but this applies not only to this model;
Some users note another problem - constant reboot.
Surely everyone knows that Apple's technology is literally the most productive and multitasking in comparison with its competitors, which is why the devices of this company have such a high price. But these devices are really worth buying and enjoying using them.
One of the main features that this computer possesses is the screen, created using a special technology, thanks to which the eyes do not get tired of work at all, no matter how much time you spend at the computer. Plus, you can enjoy the vibrant colors.
It is in this model that a whopping 8 GB of RAM is installed, an eighth generation Intel Core i5 processor. Thanks to this modification, absolutely any program can run in seconds, no matter how heavy it is. It can work seamlessly with programs such as Adobe Photoshop, Illustrator, and Microsoft Excel.
The drive in this laptop is solid-state, with a capacity of 256 GB, which means that any information will be saved very quickly, and just as quickly played back.
Specifications:
Display: Retina 13.3 inches, resolution 2560 x 1600 pixels;
Processor: Quad-core Intel Core i5 processor with a clock speed of 2.4 GHz, Turbo Boost acceleration up to 4.1 GHz, 128 MB of electronic memory;
Graphics adapter: Intel Iris Plus 655;
Height: 1.49 cm;
Width: 30.41 cm;
Depth: 21.24 cm;
Weight: 1.37 kg.
Pros / Cons
A very advanced display that allows you to comfortably work at the computer for a long time;
Modern eighth generation processor from Intel;
The fastest possible processing speed of tasks;
Convenient and well-thought-out operating system;
The thinnest, most durable and beautiful case.
The main disadvantage, which you can easily guess, is the huge cost;
This laptop is completely unsuitable for beginners, because when buying such a professional laptop model, you must understand exactly what you need it for in order to use all the functions to the maximum.
This is literally a unique model of its kind, which is relatively inexpensive, but at the same time very functional and modern. The laptop is ideal for working with any office programs, coping with them easily enough.
The design of this model leaves much to be desired, as well as the materials from which it is made, but this can be ignored, given the speed with which it copes with programs.
In this model, you cannot get a top-end processor for such a sum, so here there is an Intel Celeron, which is just able to ensure uninterrupted work with office programs. Also in this configuration there is 4 GB of RAM, which also plays a role in the efficiency of actions.
Specifications:
RAM: 4 GB;
Built-in memory: 64 GB;
Office 365 established;
Display size: 11.6 inches;
Processor type and brand: Intel Celeron N400;
Maximum RAM: 8 GB;
Operating system: Windows 10 Home;
Total weight: 1.13 kg.
Pros / Cons
Strong enough and reliable case, not easily soiled;
Intel processor;
Ideal value for money;
The battery is capable of working for a very long time.
Unfortunately, completely unsuitable for multitasking;
Over time, during use, various problems may appear that almost always cannot be fixed on your own.
This laptop is literally designed to be worked on without too many problems. It is very ergonomic, of high quality and costs an adequate amount of money. Also, this configuration can please with a fast modern processor.
This laptop is ideal for working with the Office as it comes with a 10th generation i3 processor. Thanks to this, programs, including office programs, are launched as quickly as possible. In addition, 8GB of RAM is installed here, which also improves the performance of this laptop and its functionality.
Specifications:
Display size: 15.6 inches;
Display resolution: 1366 x 768;
RAM size: 8 GB;
Supported maximum memory capacity: 64GB;
Hard disk size: 128 GB;
Graphics coprocessor: Intel UHD 620;
Operating system: Windows 10;
Total weight: 2 kg.
Pros / Cons
Most suitable for the middle price segment;
Able to work quickly with office programs, and even has a special button to launch them;
Large amount of RAM.
The only disadvantage is that computers from the manufacturer Dell have a problem with overheating, but this happens only during too long work with the device.
However, we must also include a special mention in this comparison. The ASUS Zenbook 13 is probably, for 2022, the best laptop you can get for MS Word and MS Excel.
ASUS Zenbook 13 review
This is due to the fact that it hosts more power than any laptop on the market, unless you want to spend an incredibly unnecessary amount of money. With 32GB RAM, 1TB SSD, an amazing processor and more, it is by far the best laptop you can get for MS Office, however it might be difficult to find it actually for these exact reasons. However, you can still get great variations with 16GB RAM and 512GB SSD.
Specifications:
Display : 13.3" OLED FHD NanoEdge Bezel
Processor : Intel Core i7-1165G7
RAM & Speed : 16GB
Storage : 512GB SSD
GPU : Intel Iris Plus Graphics
Keyboard : Backlit/IR Camera/NumberPad
WiFi/Audio/Streaming Features : WiFi 6 (802.11ax) + BT 5.0
Operating System : Windows 10 Pro
Accessory : Sleeve, Adapter
Weight (lbs): 2.45
Frequently Asked Questions
What is important in order to choose the best office Notebook?

If you are looking for a good cheap laptop for Excel, then you should pay attention to Lenovo 130c-11 | GM is the best budget laptop for Excel. The laptop is ideal for working with any office programs, coping with them quite easily.

What is the best budget laptop for Excel?

Lenovo 130s-11 | GM is the best budget notebook for Excel. The laptop is ideal for working with any office programs, coping with them quite easily.
---
Explore Your Business Potential: Discover Our Range of Transformative Courses Today!
Unveil the power of knowledge with our diverse array of courses, from Operational Procurement in S/4HANA to SEO essentials. Elevate your expertise and drive success in your business ventures.
Get your course
---
---