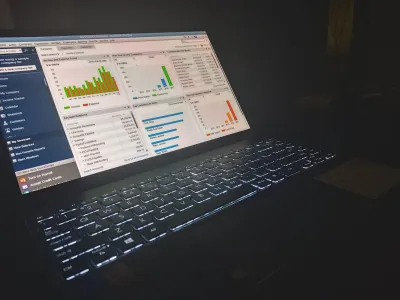 ---
---
The modern world is increasingly coming to the conclusion that even if you do not own a business, you still need to keep accounting. This will help you understand how to spend money more wisely, and where it is spent in general. Well, if you have a business and you want to understand this issue on your own, then this article is definitely for you.
By itself, the QuickBooks program is not very demanding on the parameters of a laptop, judging by the official data, for its installation and successful operation, you will need only 4 GB of RAM and 5 GB of hard disk space. But in reality, it is not so easy to find a good laptop for this task, so now you will see a list of five options that will definitely appeal to you both in terms of performance and price.
The main reason that this particular laptop opens our list is very simple: Lenovo knows how to create ideal partners for any activity, including accounting. The IdeaPad 3 stands out from other laptops from this manufacturer with its business design - it is thin enough, has a thin screen bezel and a very responsive keyboard. It will definitely be a pleasure to work with such a friend.
Despite its rather modest characteristics, this laptop will delight its owner with multitasking and fast work with programs such as Quicken, QuickBooks. As for the processor, here is AMD Ryzen 5, so this laptop is quite speedy for high-quality business management work.
It is also important to take into account the fact that the graphics in this laptop are installed from Radeon, so the rendering speed is at a decent level. Thanks to the presence of such a video card, all work processes run as smoothly as possible.
To keep the bookkeeping smooth, this laptop has 8 GB of RAM, so almost any software will work without problems.
Another important aspect is that this model has an SSD, and it works much faster than a regular hard drive. The amount of memory is 256 GB, and this is quite enough to carry out accounting and store other necessary files.
You should also pay attention to the screen, it has a FullHD 1080p resolution, so when working at such a monitor, your eyes do not get tired, and it is also much easier to concentrate.
Specifications:
Display size: 14 inches;
Screen resolution: 1920 x 1080;
Processor: AMD Ryzen 5;
RAM: 8 GB;
Hard drive: 256 GB;
Graphics coprocessor: AMD integrated graphics;
Operating system: Windows 10;
Item Weight: 3.3 lbs.
Pros / Cons of the model:
Stylish design, low overall weight of the laptop;
Convenient thoughtful keyboard;
An excellent assistant in business matters;
Copes with programs such as Quickens, QuickBooks;
Long lasting battery.
Sometimes there may be problems with the warranty service, but with the laptop itself, there are no problems at all.
This laptop has won approval from a huge number of users, and there is a logical explanation for this. It has great technical features that go well with a minimalistic design. Even when compared to the IdeaPad 3, it is much thinner and more portable.
Also, unlike the previous version, this laptop copes with the tasks much faster, this is due to its advanced configuration. The price for such a device does not exceed a thousand dollars.
The laptop we are talking about is quite complete and functional, but despite this it weighs only 2.97 pounds. Compared to other models with similar technical characteristics, this is a very low weight, which is good news.
It will be a great option to help you manage your business because it has a good set of features, such as 8GB of RAM on board, which means it can handle programs like Quicken and QuickBooks without any problems.
As for the processor, here it is the tenth and most recent generation, the Core i5. This is very good, because with this configuration, buying such a laptop becomes a very profitable investment for the next couple of years.
But if we talk about the amount of memory for storing files, data and programs, then everything turned out not as well as with the rest of the parameters - the SSD is installed on only 128 GB. But on the other hand, it may not be so critical, for example, you can use an external hard drive.
Not all bad, but there is one more thing in this laptop that will definitely delight and surprise you - the battery. The manufacturer claims that the laptop can work 11.5 hours in stand-alone mode, and many owners of such a laptop very quickly became convinced of this - this is really true.
Specifications:
Screen size: 13.5 inches;
Maximum screen resolution: 2256 x 1504 pixels;
Processor: Intel Core i5;
RAM: 8 GB;
Hard drive: 128 GB;
Graphics coprocessor: Intel Iris Plus Graphics;
Average battery life: 11.5 hours;
Operating system: Windows 10 Home.
Pros / Cons of the model:
You will definitely love the design of this laptop - it is stylish yet simple at the same time;
Thanks to thoughtful details, the laptop is very lightweight and transportable;
There is a modern tenth generation processor on board;
This laptop will definitely become your best assistant in accounting and business;
Good amount of RAM.
The only thing that can be confusing about this model is that the ego is quite decent value. There are no other problems with this notebook.
This small laptop is capable of seriously competing with the above models. This is due to the fact that this particular model has received public acceptance from users who work in the field of business.
The first thing that was noticed is that all programs, including QuickBooks and Quicken, run very smoothly and without freezing. This toddler is capable of delivering good performance. Its body also stands out - it is made in a business style, and is also very durable. This will delight those who are accustomed to constantly taking a laptop with them on business on various trips. Its price is also notable - for just almost $ 500 you get the perfect computing machine that will never let you down.
If we talk about configuration, then you will not see the names of famous processors here, since AMD Athlon is installed here. However, do not write off this processor just because it is not as popular as others. Its performance is quite enough to open any modern programs with one click of the mouse in just a couple of seconds. As for the RAM, there is 4 GB of it, which also contributes to the improved performance of the laptop.
The screen may seem strange at first due to its small size, but you get used to it quite quickly, because it has a FullHD resolution.
Thanks to the good balance of characteristics and quality materials, it turned out to be a very good inexpensive laptop that is able to work without problems in multitasking mode with several programs at once.
Specifications:
Display size: 14 inches;
Screen resolution: full size - 1366 x 768;
Processor: AMD Athlon Dual Core 3800 plus;
RAM: 4 GB;
Hard drive: 128 GB;
Graphics coprocessor: AMD Radeon;
Average battery life: 10 hours;
Operating system: Windows 10;
Item Weight: 3.24 lbs.
Pros / Cons of the model:
HP has made sure that this model has a very durable and reliable case, designed to last a long time;
The configuration is well chosen, and although the laptop will not be able to handle games at all, it will definitely cope with the tasks of doing business and accounting, thanks to the fact that multitasking is well developed in it;
A very affordable price tag, so this laptop is definitely suitable for those who have their own business, but do not yet have the funds for a more expensive option.
Although the manufacturer claims that the laptop is capable of working 10 hours in battery mode, in fact this is not very close to the truth;
During operation, the fans can make a loud noise, but you can get used to it over time;
It may seem to some that the design could have been done better, because the one that is, seems somehow not finalized.
It is not without reason that HP appears on this list several times in a row - this is exactly the company that creates good computers for business, education, and just for home. One of the distinguishing features of this model from the previous one, first of all, was that it received a touch screen. Moreover, this is not a transformer, but an ordinary laptop with a touch screen. Working on such a model means gaining quite an interesting experience. But not only this it differs from the previous model.
First of all, it is a more detailed design and an ergonomic keyboard. In terms of performance, there is an AMD Ryzen 3 processor and graphics from Radeon. It is for this reason that this model is better than the previous one - multitasking is several times better here.
Many people may start to fear that the touchscreen is not working well enough, but in fact, it is exactly the same as on any smartphone. It is literally a pleasure to operate a laptop with such a screen.
If we talk about resource issues, then the RAM in this laptop is 8 GB, and the hard drive is designed for only 128 GB, but this is still enough to store projects and files on the laptop for some time.
Specifications:
Display size: 14 inches;
Screen resolution: full size - 1366 x 768;
Processor: AMD Ryzen 3;
RAM: 8 GB;
Hard drive: 128 GB;
Graphics coprocessor: AMD Radeon Vega 3;
Operating system: Windows 10;
Item Weight: 3.25 lbs.
Pros / Cons of the model:
The price - functionality - quality ratio is very well developed in this model;
With such characteristics, the laptop will perfectly cope with doing business, accounting and any other various documentation;
Nice touch screen with a high level of responsiveness (like any smartphone).
The only drawback that you can face here is that the memory on the hard drive is only 128 GB, so if you have large volumes of work and you bought this laptop, you can come up with a solution for storing information: external hard drive, cloud storage, or other options.
It is this laptop model that has gained particular popularity among users. Of course, its characteristics are pleasing, as well as the fact that the price for it is not at all cosmic. This laptop is suitable not only for doing business, accounting, but also for a huge number of activities that can be done with a good laptop. The price does not exceed $ 350 for this model, so you should definitely take a closer look at it.
The technical parameters will please the person who expects good performance and multitasking from this model, because it has AMD Ryzen 3 and the graphics are Vega 3. It is the perfect combination for the money, and besides, it works well in pairs, so no user will not be disappointed with his work.
But at first glance, there is not so much RAM - 4 GB. However, in combination with the above parameters, the interface works quite quickly, without delays or freezes.
It is worth paying attention to the fact that this laptop is literally adapted for autonomous work - the battery is designed for 7.5 hours during normal surfing the Internet. For the price, these are amazing results.
Specifications:
Display size: 15.6 inches;
Maximum screen resolution: 1920 x 1080 pixels;
Processor: AMD Ryzen 3;
RAM: 4 GB;
Hard Drive: 128GB Solid State Flash;
Graphics coprocessor: AMD Radeon Vega 3;
Average battery life: 7.5 hours;
Operating system: Windows 10;
Item Weight: 3.97 lbs.
Pros / Cons of the model:
Affordable price for good performance;
A universal model - suitable for both something specific and for everything at once, while it has a delicate, pleasant design;
Suitable for long-term work outside the home, since it has a sufficiently large battery, which will definitely last for 7.5 hours.
The only thing you might not like about this laptop is that the plunger is too low.
However, we must also include a special mention in this comparison. The ASUS Zenbook 13 is probably, for 2022, the best laptop you can get for Quickbooks and accounting at a competitive price.
ASUS Zenbook 13 review
This is due to the fact that it hosts more power than any laptop on the market, unless you want to spend an incredibly unnecessary amount of money. With 32GB RAM, 1TB SSD, an amazing processor and more, it is by far the best laptop you can get for MS Office, however it might be difficult to find it actually for these exact reasons. However, you can still get great variations with 16GB RAM and 512GB SSD.
Specifications:
Display : 13.3" OLED FHD NanoEdge Bezel
Processor : Intel Core i7-1165G7
RAM & Speed : 16GB
Storage : 512GB SSD
GPU : Intel Iris Plus Graphics
Keyboard : Backlit/IR Camera/NumberPad
WiFi/Audio/Streaming Features : WiFi 6 (802.11ax) + BT 5.0
Operating System : Windows 10 Pro
Accessory : Sleeve, Adapter
Weight (lbs): 2.45
Pros / Cons of the model:
The thinnest bezels of the screen, but the display still remains full;
The most powerful processor for smooth operation;
A very good location of the keyboard, so when typing your hands will not get tired;
Large capacity storage for all your important data.
Overheating is a very common problem;
The model costs a little more than expected, but is worth the investment as it will pay off quickly.
A quick guide to choosing a laptop to use with QuickBooks
The only thing you might run into when choosing a laptop for such a task is your budget constraints. But there are still a few things to consider when choosing a laptop to work with QuickBooks.
The processor is the most important detail. If you have a very modest budget, then attention can be paid to models with an AMD Ryzen processor (for example, 3). If you prefer Intel, then you can start with the Core i5 (seventh generation). These processors, despite the fact that they are not super powerful, will in any case cope well with the tasks assigned to them - maintaining documentation, creating files, working in specialized programs, and all this - in multitasking mode.
As for the RAM, the option with 4 GB on board is allowed. If you need a little better, then you can find a model with 8 GB of RAM, but its larger volume does not make sense for the tasks at hand, because even with 4 GB the laptop will easily cope with all your business affairs.
It is also very important that the model you choose is portable - not heavy, with a good case and stylish design, and also lightweight, so that you will be comfortable taking such a laptop to meetings and other matters.
If we talk about the amount of hard disk memory, then now most models have 128 GB memory. This is not bad, but still too small, the best option is at least 256 GB, that is, the more, the better, otherwise the problem of storing information will have to be solved additionally.
Frequently Asked Questions
Which laptop should an accountant choose?

The Lenovo IdeaPad 3 is a good accounting laptop for the professional. This laptop will delight its owner with multitasking and fast work with applications such as Quicken, QuickBooks.
---
Explore Your Business Potential: Discover Our Range of Transformative Courses Today!
Unveil the power of knowledge with our diverse array of courses, from Operational Procurement in S/4HANA to SEO essentials. Elevate your expertise and drive success in your business ventures.
Get your course
---
---