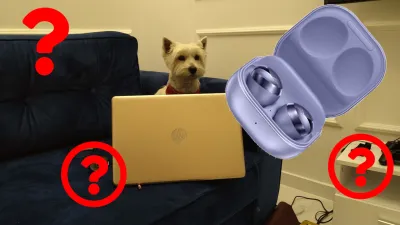 ---
---
Modern technology has come a long way in recent years, and today no one is surprised by wireless headphones. There are a lot of them, but today we will talk about Galaxy Buds.
As you can guess from the name of the model, the manufacturer of these headphones is Samsung. These headphones literally blew up the public because they got an unusual shape resembling a bean. The company did not adopt someone else's experience and copy the style, creating its own.
Their features include the fact that they have fast charging, special wear sensors, as well as their operating time - 6 hours. From the case, they can be fully charged three times. Their advantage can also be called the fact that the Type-C connector is used to charge the case, which means that there will definitely not be any problems with charging.
The interest of using wireless headphones is that they can be connected not only to a smartphone or tablet, but also to a laptop that supports Bluetooth wireless technology. This technology is literally in every modern laptop, and if it suddenly is not there, you can purchase a special adapter.
Connecting Galaxy Buds to a laptop: the easiest working life hacks
The instructions that you will use directly depend on which operating system is installed on your computer. The instructions for Windows and Mac are different, so we'll go over each option in detail.
Connecting Galaxy Buds to a Windows 10 Laptop
This will be your easiest instruction in life.
To get started, you need to enter "Bluetooth" in a special Windows search engine and click on search.
The laptop will prompt you with the Bluetooth and other device settings option. This is exactly what we need.
While you are opening these settings, open the cover of the headphone case, and the headphones must be in the cover itself, this way you will activate the detection (pairing) mode for the headphones.
At the same time, if you have any device nearby with which these headphones are already connected, you need to turn off Bluetooth on it, since the headphones will automatically connect to this device.
Let's get back to the laptop. In the open tab, you need to click Add Bluetooth or other devices. This press will take you to the next window, in which you must select this connection method.
After completing this action, your laptop will start searching for devices available for connection. It usually doesn't take long. When the search is finished, you will see your headphones in the list. Click on them.
As soon as you complete this action, pairing will begin, the whole process will take just a couple of seconds. When everything is finished, you will see this message: Your device is ready to go!.
Connecting Galaxy Buds to an iOS laptop
Before proceeding with this guide, you must make sure that your device is updated to the latest version. This is not necessary, but at the same time it can increase the connection speed. Also, as in the previous case, turn off all devices with which the headphones can be connected.
On your laptop or computer, you need to select System Preferences from the menu, and then select Bluetooth.
Headphones, as in the first case, you need to put in the case itself, but leave the lid open to activate the pairing mode.
Your laptop will show a list of devices, you need to select the headphones from it and click Connect. After that, you can check - turn on your favorite track and make sure that it plays from the headphones, and not from the computer.
Connecting Galaxy Buds to TV
Before telling the instructions, it is very important to say here that your TV must be very modern, in particular, it must have a wireless connection function.
To successfully connect your headphones to your TV, make sure that Bluetooth is not enabled anywhere else, otherwise the headphones may "pair" with the wrong device. When this is checked, you can put the headphones in the case and leave the lid open so that they go into pairing mode.
Using the TV remote control, you need to open the settings and find the Bluetooth wireless connection item in them.
After opening this option, simply find your Galaxy Buds in the list and click on them, then the pairing takes place, and the headphones are successfully connected to your TV without problems.
Connecting Galaxy Buds to a Chromebook
Chromebook is the latest operating system that is installed on laptops or netbooks. It is very light and productive, and it is also very easy to connect headphones to such a device.
On your Chromebook, click the time icon in the bottom right corner.
A small menu will open in which you need to select a wireless connection using Bluetooth.
You need to enable this technology by simply clicking on the icon.
Your device will prompt you with a short instruction that you need to follow in order to connect your Galaxy Buds to your laptop.
When the pairing is completed, you can double-check the connection was successful by going to the Paired devices section, there you will see that your headphones are successfully connected.
Advantages of Galaxy Buds headphones: why you should choose them for connecting to a laptop
Wireless headphones (not only these, but in general) have won the trust of many users. They are very convenient to use due to the fact that there is no wire that is constantly tangled if it is too long, or vice versa - it brings discomfort when used if it is too short. In these headphones, it is convenient to play sports, drive a car and do a bunch of other things. In particular, I like the fact that they have a fairly large range, at least ten meters, that is, it is not necessary to constantly keep a connected phone or device at hand. What other advantages does Galaxy Buds have?
Firstly, they have a very ergonomic design, they are light, and when you put them on, they become completely invisible to you. Thanks to this, the ears do not get tired or hurt from them, so you can literally listen to your favorite music or podcasts for hours. In addition, they have simply gorgeous sound quality, but it can not be described in words - it is better to listen.
Secondly, Galaxy Buds are notable for the fact that they can work for a long time without returning to the case - about 6 hours. Other headphones, at best, will work in this mode for 4 hours, and then they will be charged inside the case for a long time. These headphones also have a fast charging function: when you put them in the case and they lie there for 5 minutes, you can pull them out and listen to music for another hour.
Thirdly, in order to change the sound, you do not need to click on the headphones themselves, this can be done directly from the laptop, and the headphones will immediately follow the changes in volume. Many users of these headphones are amazed at how responsive they work not only with smartphones, but also with laptops.
Fourth, this is getting rid of the tangle of wires (and you probably know how headphones can get tangled, even if they just lie on the table). The only thing that should not be forgotten when using Galaxy Buds, and other wireless headphones, is timely charging of the case.
Answers to frequently asked questions
1. How to connect Samsung headphones to a laptop?

In order to do this, you need to look at the instructions above and follow the one that matches your operating system that is installed on the laptop. The instructions are so simple that even a child can handle it.

2. Why won't Galaxy Buds connect to my laptop?

This problem may appear due to the fact that the headphones are already connected to some device in the house to which they were previously connected. To fix this situation, you will have to disable Bluetooth on all devices where the headphones can connect, and try again.

Can Galaxy buds connect to laptop?

Of course, you can connect Galaxy Buds to a laptop. The connection process depends on which operating system is installed on your computer, as the instructions for Windows and Mac are different.
And another popular problem is that you simply forgot to recharge them on time, and they are completely discharged.
Frequently Asked Questions
---
---
---